May 19, 2020 - 10:00 am
Paulding
Large Auction
On Line Or Absentee Bidding
Fenton Glass – Old Toys- Vintage Hot Wheels
Antique Furniture – Primitives – Collectables
Coins – Hicksville Historical & Old Advertising
LOCATION: Gorrell Bros. Auction Facility 1201 N. Williams St., Paulding, OH
Over 120 lots of varied nice Fenton Glass plus Chocolate Glass, Slag Glass, Imperial, Westmoreland, St. Clair, Depression & Others (from the Joyce Huseby Collection) …Over 75 lots of Old Toys (Tin, Steel, Plastic, Wind Up, Battery Operated) …Many Vintage Hot Wheels & Hot Wheel Sets & Accessories …Slot Cars …Vintage GI Joes … Old Paper & related items such as 1800's deeds, etc… Plus old local and other newspapers … Kegs Barrels stamped Hicksville, OH plus large lot of old Hicksville Advertising, school items, advertising, etc ..   Deeds and paper items from the 1800's …. Plus large lot of Hicksville Produce related items including seal, thermometer, paper items, etc … Plus other Advertising … Books incl Paulding & Paulding Co. History …Toy banks … Yarn, sewing and related … old pictures and frames … large lot of children's books … several lots of old books …. Large lot of cook, reference and other books …. Vintage record players and radios … 45, 78 and 33 1/3 records …. Graniteware …. Crocks …. Seed sacks … 2 Trombones … Coronet …. Toy Guitar … Miniature oil lamps …Boy Scout Manuals, Mechanic Illustrative etc. … … over 40 antique furniture lots mostly oak such as 5 commodes, dressers, etc.   Treadle sewing machines .. Coins incl silver halves, quarters, dimes … stamp lot … wood boxes … ….Steel traps, cast iron, Old wood boxes & kegs .. Linens, towels – older sewing items, etc… Fishing Boat … fishing poles & camping items …Tools, Holiday items, household, etc… Much, Much More-Over 350 auction lots ranging from individual items to large lots …. Due to the Covid-19 virus and social distancing guidelines w/ limits on crowd size, bidding is by online bidding or you can leave absentee bids w/ Gorrell Bros.
Online Bidding from May 21, 2020, through May 30, 2020 @ 10 A.M.,
By Auction Zip Through Invaluable Auctions
Bidding Ends With A Soft Close Time Of 10 A.M.
Click Below to BID
https://www.auctionzip.com/auction-catalog/Toys-Glassware-Antiques_IC49T6BQ1E/
If a bid is placed in the last minute of bidding. the bidding close time will be extended
Or you can leave absentee bids with Gorrell Bros.
Inspection at Gorrell Bros from 9 AM to 4 PM
on May 21, 22, 26, 27, 28 & 29
Or Sat. May 23 & Mon. May 25 & evenings by appointment
Pickup & pay at Gorrell Bros.
June 1 through June 5   from 9 AM to 4 PM
Or By appointment during the June 1 to June 5 time period
Masks recommended during viewing & pick up (bring your own or we will have them available) Viewing & pick up of purchased items in conformance with social distancing guidelines & maximum recommended capacity w/ appointments taking preference …call with any questions
Items are located at Gorrell Bros. Auction Facility @ 1201 N. Williams St., Paulding, OH
Bring Your Own Boxes For Pickup Of Smaller Items
Limited Number Of Boxes Available
Terms: Cash, Check, VISA, Master Card or Discover Card… 15% Buyers Premium & 7 ½ % Ohio sales tax added to high bid, unless Buyer has a valid vendor's number, then only 15%   Buyers Premium added to the high bid.   All items are sold "as is and where is"
The toys have not been operated for lot descriptions, and have been in the "Pryor" house for many, many years untouched and not used in both dry and wetter areas of the house.. Descriptions are believed to be accurate, but are not guaranteed.
Pick up is Buyer's responsibility.   Small items can be shipped UPS with cost paid by Buyer.
Sellers: Wyndolyn Pryor Estate, Defiance Co. Probate Crt Case #19639; & Dennis Krick Estate, Pldg Co. Probate Crt Case # 20191076 and Others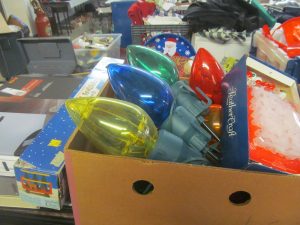 << Back to Auctions